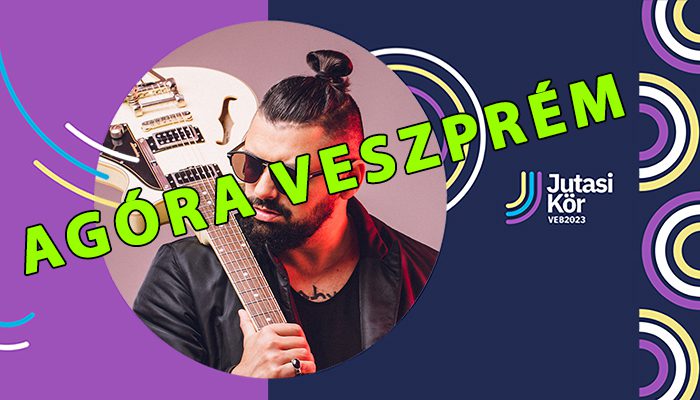 Dear Guests!
Due to the expected rainy weather and for your safety, our event will take place in the Agora, except for the running race.
Thank you for your understanding, we look forward to welcoming you!
Come and spend a sporty day with us in János Kálvin Park, where
sports and skill demonstrations, running, sports competitions, gymnastics, games, activities, crafts, live concerts and a buffet await children and families who love movement and active recreation. Let's conjure up a real picnic atmosphere in the park between the walls of the Jutasi housing estate!
Stage programmes
10.30 Edina Lovászi and her orchestra: abc family concert with puppet show
14.30 Rubint Réka Shape reform training
15.30 Adrienn Bánhegyi world champion rope jumper
15.40 Acro Dance Rock and Roll Sports Dance Association
16.00 FLIP UNIT | @theflipunit presentations
Freestyle football show, Hula hoop show on concrete ball, BMX flatland show
16.30 Veszprém Taekwon-do SE
17.00 Festive toast, announcement of results
(Picnic collection sheet, wall climbing competitions, skateboard testing, decoupage competition)
17.30 Ataru Taiko Percussion Ensemble
19.30 Joci Pápai live concert
Accompanying programmes
II Jutasi Kör running race🏃🏃‍♂
8.00 registration
8.45 common warm-up
9.15 Start
10.00-18.00 Sports activities
- Table hockey, foosball, xxl foosball, ping-pong, button football
- Adventure park, eurobungee, archery
- Minigolf course
- Veszprém Sport Climbing Association: wall climbing, climbing competitions: diaphragm, "heavy wall", speed (children-adult)
- Fighter's Run Wolf Cubs mini obstacle course
- Skateboard test and instruction
Register and test your skateboard for a chance to win one of the professional, complete skateboards on display!10.00-12.00 VEDAC Skateboard Skill Games
15.00-18.00 Veszprém Gymnastics Club: air track trial
16.30-16.50 FLIP UNIT | @theflipunit: Adidas balloon decorating competition
17.00-18.00 FLIP UNIT | @theflipunit: freestyle football trick training
10.00 Jutasi Olimpia🏃🏀
Form a team and compete in running, tug-of-war, jumping rope, wall climbing and ball games!
To register for the team competition, please visit: https://veb2023.typeform.com/to/x94DYEOZ
Picnic collection sheet
- do 5 sporting activities,
- ask for 5 stickers for them on your collection form,
- drop your completed ticket in the white collection box to take part in the prize draw at 17.00!
14.00-18.00 Várszegi Kata - ReCikli Workshop for children and adults (jewellery made from bicycle inner tubes, keyrings)
14.00-18.00 Henna painting
15.00-18.00 Silver Knight Chess Club, Bridge Club
8.00-18.00 Mothers' picnic
While you enjoy the Jutasi Picnic and Olympics, you can take a break in the BABA-MAMA tent of the Lélek Éled Kör Association. In addition to exciting presentations and talks, you can also enjoy a breastfeeding/feeding corner, a baby changing station, tea and coffee in good company.
Some elements of the programme are accessible for deaf and hard of hearing people.
For more information on the SINOSZ World Day of the Deaf event, click here:
https://sinosz.hu/emeld-a-kezed-veszpremben-siketek…/
Participation is free of charge!
Venue: Agóra Veszprém Cultural Centre
The programme is funded by the VEB2023 ERDF.