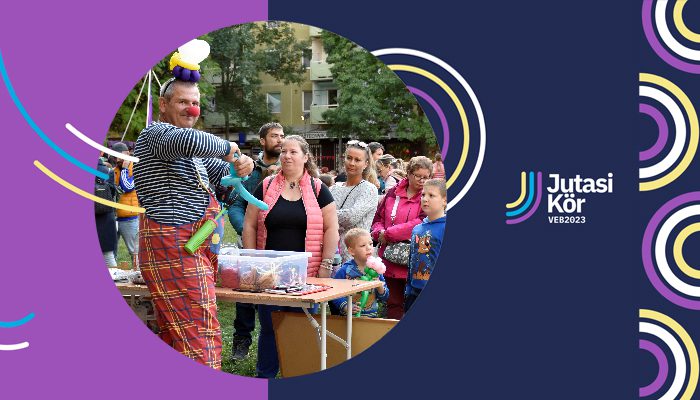 The Square is yours! on the Friday circus day of the Jutasi Picnic, where spectacular performances and exciting circus activities await you
The programme is an interesting experience for both those who just want to watch the performances and those who want to try the circus wonder.
During the day, you can meet 20 international artists from the Together! circus series, who will be performing in several places in Veszprém during the week.
Location: park in front of Deák Ferenc Primary School (Veszprém, Aradi vértanúk u. 2.)
Venue: Agóra Veszprém (Veszprém, Táborállás park 1.)
STAGE PERFORMANCES
15.30 Above Earth - Creative Crater Circle
16.00 Mini-show of the Cirkollective teams
17.00 "Jutasi's man mountain" joint big goose building
18.00 Time Travellers Company: guide for time travellers (circus theatre performance)
18.30 - 20.00 Circus Live Museum
The production is not just a show, it is a live exhibition. The circus museum
are on display for an hour and a half at various locations in the park. Eleven images, separate works that also respond to the viewers.
19.00 - 21.00: Fire Picnic
Creative Crater Circle - fire show
A show by the fire juggling team of Project Prometheus... as well as improvisation by the many circus artists present.
During the programme, more experienced, amateur members of the public can also try their hand at fire juggling.
ACTIVITIES FOR YOU, WITH YOU
15.00 - 18.30 Craft workshops
Make your own juggling ball, flower stick and poi.
Slackline lessons
Here you can learn or improve your rope dancing skills.
Face painting and balloon folding
JUGGLING VENUE
15.30 Ball workshop for beginners
16.00 Poi workshop
16.30 Flower bot workshop
17.00 Diabolo workshop
17.30 Shawl workshop for beginners
18.00 Plate spinning workshop
AERIAL ACROBATICS LOCATION
15.00 Air Gymnastics Association Open Hour (hoops)
15.30 Open Hour of the Air Gymnastics Association (tissue)
16.00 Air Gymnastics Association Open Hour (hoop)
16.30 Aerial yoga (beginner)
17.00 Aerial fit (advanced)
17.40 - 18.00 Presentation of the Air Gymnastics and Air Dance Association
The programme is funded by VEB2023.