Agóra Veszprém Cultural Centre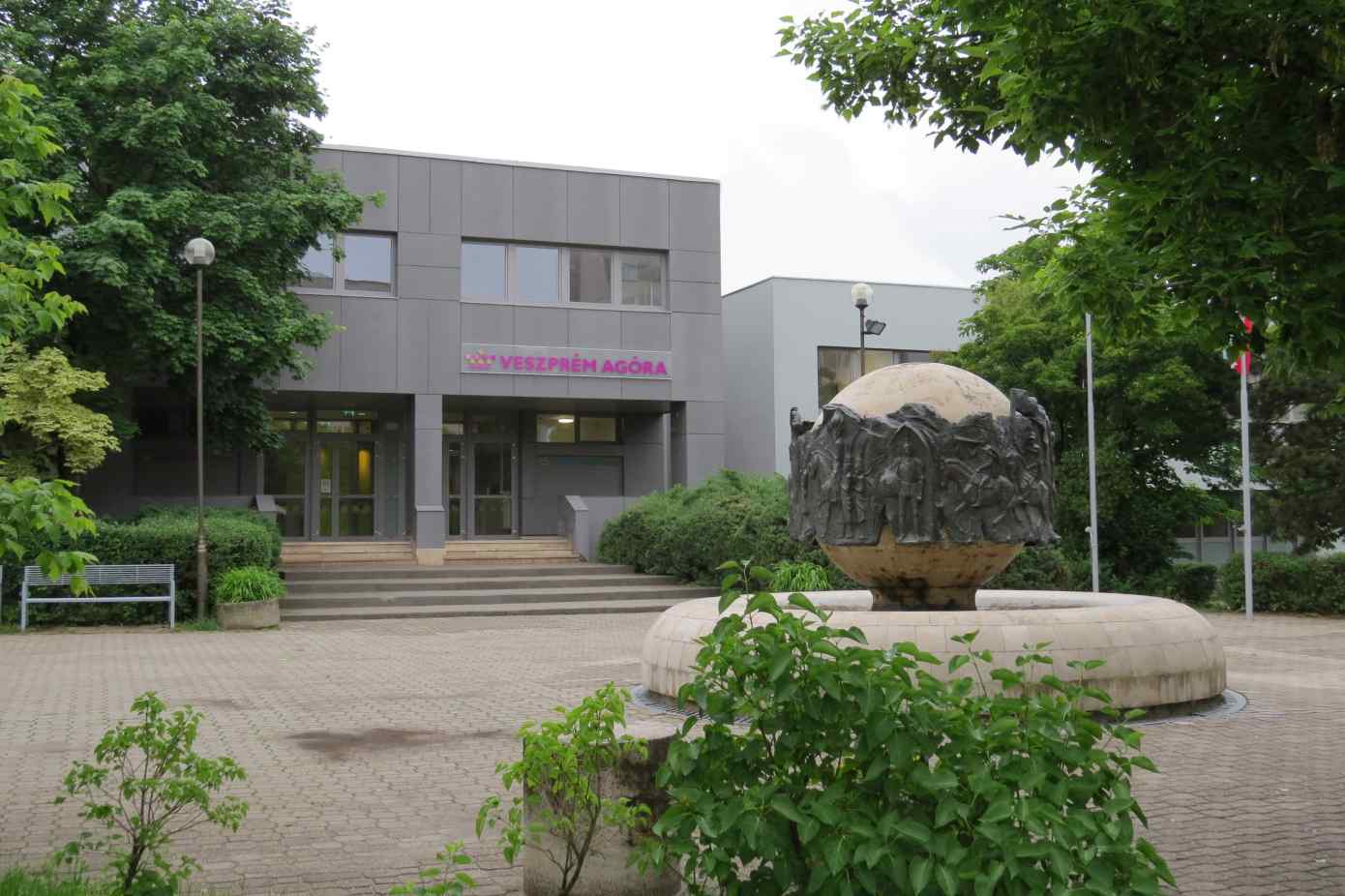 Veszprém is a picturesque and historical town with an undulating terrain, situated at the centre of the Western Hungarian (Transdanubian) region, where the Bakony Hills meet the Lake Balaton area. The friendly and cosy atmosphere of this thousand-year-old small town is well reflected by its cultural life.
Agóra Veszprém plays a central role in the provision of cultural and open education programmes to the 60,000-inhabitant urban settlement and its surroundings. As an achievement of the European Union and State of Hungary-funded "Agóra Veszprém" project, a beautifully fitted, modern and multifunctional cultural centre has been put into the service of the local population since 2015. Our institution is a new colourful point in the town's cultural life.
In addition to running the establishment in the town centre, Agóra Veszprém is responsible for two district subsidiaries: the Gyulafirátót House of Culture and the Kádárta Community House.
Agóra's building is ready to welcome the interested public to a 290-seat modern and air-conditioned theatre auditorium equipped with professional lighting and audio systems. The entire building has been made wheelchair accessible for the comfort of the disabled and senior citizens for all workshops and presentations/shows. A lift has been installed to help guests move to all floors.
More than 70 associations, clubs and groups are active in the building, with links to, and support from, our organisation. Agóra provides a broad platform to civil initiatives, aids the work of civil communities, with activities put on to raise the interest of the widest possible spectrum of local age groups and social strata.
In addition to arranging social science and nature sciences education to the interested general public, Agóra has come to realise an increasing range of complex programmes.  Our contribution to arts training has also been manifold and intensive.
The spaces of our newly renovated rooms are ideal for the accommodation of an average yearly count of 30 fine, applied and folk art as well as photography exhibitions. We have got outstanding natural and artificial light conditions and effects, complemented by contemporary standard exhibition equipment for a pleasant visit experience.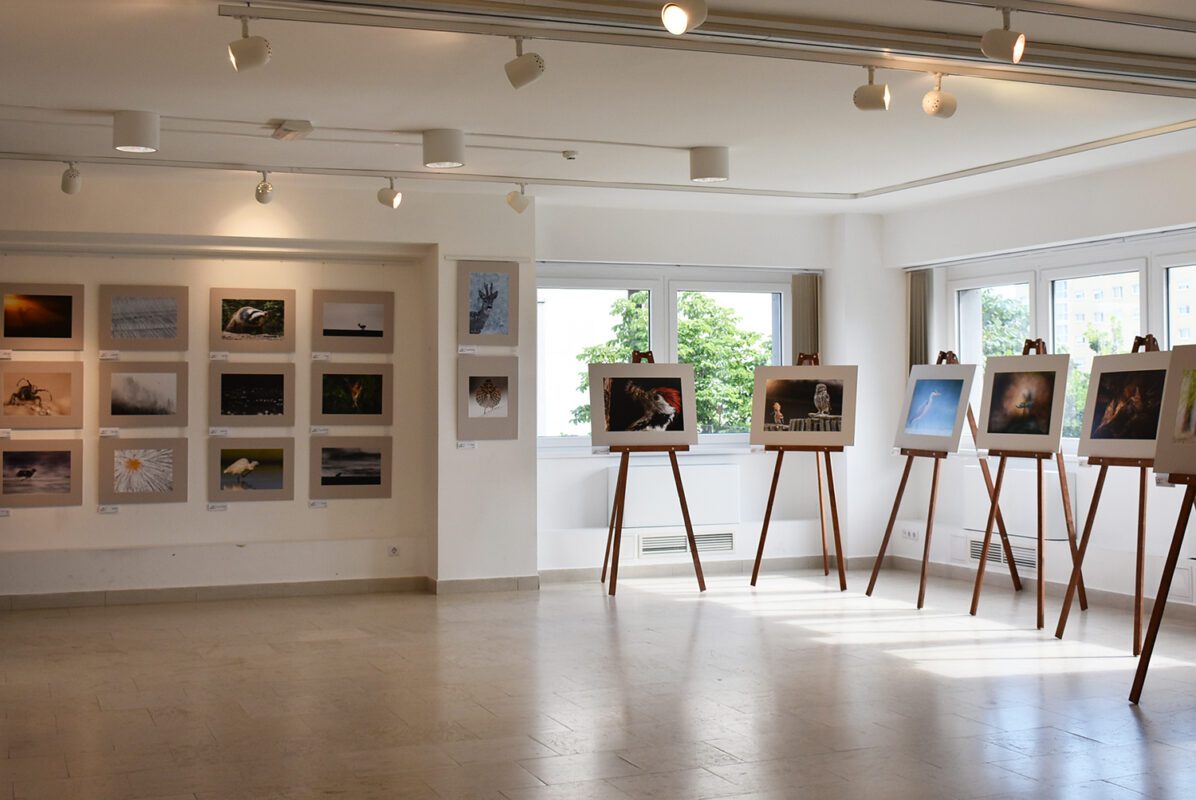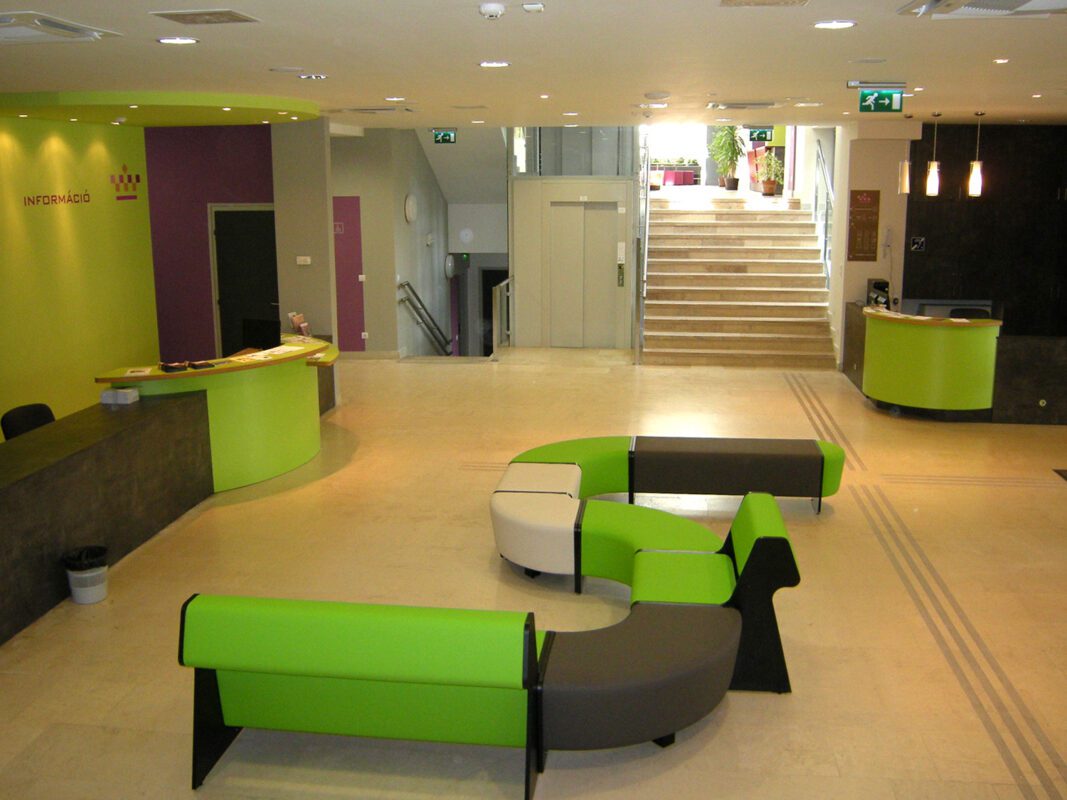 Our halls and rooms of various sizes and equipment packages may flexibly be arranged and fitted with facilities to meet all demands; thus, they serve as ideal venues for concerts, lectures and presentations, meetings, club sessions, sports activities, children's and family events, dance rehearsals, press conferences, study courses, balls, exhibitions, fairs, and an additional range of gatherings outside these categories. For larger-scale events, our rooms may be opened into one another or sectioned off. Our building houses a dance rehearsal hall, a satellite kitchen, a small-crafts workshop, an exhibition space, and a library outlet (part of the Eötvös Károly County Library and also an internet access point), lecture rooms, a computer and a language lab.
Agóra's building displays a homogeneous yet colourful design which characterises both the interior and the exterior of our house. This is harmoniously complemented by modern furnishing, from the entrance space, the ground floor and first floor foyers to the modern café, all designed to serve visitors' comfort and relaxation.
Veszprém is home to creative and performing communities as well as highly professional artistic troupes of several arts branches. Out of these, rehearsal, presentation and performance halls are provided by the Agóra Centre to Bakony Photo Club, Váci Mihály Literary and Theatre Group of the Society for Dissemination of Scientific Knowledge, Veszprém-Bakony Folk Dance Troupe, Little Bakony Folk Dance Troupe, Veszprém Gerence Traditionalist Folk Dance Troupe, and Gizella Women's Choir.
One of the main focuses of Agóra's activities is promoting Hunarian folk music traditions from a diversity of geographical areas. Every year we put on a number of top quality folklore programmes, usually complemented by barn dancing events.
In summers we welcome townspeople and tourists to a wide array of open-air events.
The most popular type of these open-air programmes is entertainment-focused shows.
From year to year, the early summer days see the first "Family Day" in the Kálvin János (John Calvin) park, which regularly attracts nearly a thousand visitors. The three evening performances of the "Dubniczay Palace Music Yard" invariably stand in the centre of attention of classical music fans.
Music from Europe and the wider world is played in the final days of July at a free concert series entitled "Best of the World Evenings in Old Town Square", an excellent occasion for pleasant summer evening entertainment.
The "International Folklore Evenings in Old Town Square"  festival, traditionally organised in August provides a taste of folk music from several countries.
In the final days of the summer, housing estate residents are the main target group for the "Come out into the Park! – end-of-summer evenings" lasting for several days, which allows adults as well as children to find fun activities in the nice summer weather.
Summer's closing is marked by the games, playhouses and other age group-specific activities of the second "Family Day", also set in Kálvin János Park.
The wide range of summer camps we organise are gaining popularity from year to year: we have daytime camps in computering, play and toys, confectionery, and drama and poem recital. The other three seasons also see a number of programmes in our house: courses, exhibitions, knowledge dissemination sessions, film club, ethnic minority days, literary programmes, senior citizens' events, theatre performances, end-of-year galas, and premieres. Agóra is home to Csa-ládika "Fami-Little", which focuses on the family as on a unit with the primary function of childrearing. The furnishings of their room have been kindly provided by the Integrated Family Aid and Child Welfare Institution. This creates a family-friendly space for our visiting young parents and little children.
You are kindly invited to visit us every day of the week!
Agóra Veszprém Cultural Centre opening hours:
Monday to Friday: 7:00 – 22:00
Saturday: 8:00 – 20:00    Sunday: 8:00 – 13:00
Agóra ticket office hours:
Monday: 14:00 – 18:00
Tuesday to Friday: 11:00 – 16:00
and one hour before performances.