Our projects supported by the VEB2023 ERDF:
Community planning in the Jutasi Road housing estate
Azonosítószám: OC-MUV/1-2021/4852
Duration of the action: 01.05.2021-31.10.2021.
Amount of aid: HUF 13.770.261
The aim of the project was to launch a community-building activity, a community planning process, through which we propose infrastructure interventions by actively involving the residents of the neighbourhood. We have sought to ensure that infrastructure upgrades in the neighbourhood are socially accepted improvements based on real needs. Residents' views were sought on the proposed running track and on investments in the sub-centres. Together with local residents and park users, we found out how to improve the green spaces in the district and create a living environment where residents feel at home.
Throughout our work, we have always focused on community building and development, strengthening local identity and cohesion, encouraging the creation of self-directed groups and promoting intergenerational dialogue. All our activities have been guided by the values and objectives of the EDF.
Jutasi Picnic and Olympics
Azonosítószám: OC-MUV/1-2021/5497
Duration of the action: 28.05.2021-31.10.2021.
Amount of aid: HUF 11.482.812
With this project, we wanted to create a unique event with a different profile from other events in the city. We tried to reflect the needs of the people living in the neighbourhood, which have been less addressed so far. We wanted to make the people living in the housing estates more active, to gain new experiences and to share new experiences. We also wanted the programme to be mainstreamed and to become a growing event in 2022 and 2023. In front of the Deák School there was a Nordic Walking demonstration, in Táborállás Park there were family and children's activities, pastry and gastronomy demonstrations, and in Kálvin János Park there were circus, sports and movement events and concerts. Guests included Rubint Réka, Sub Bass Monster and the Heroes Orchestra.
The programme, which was created with the intention of creating a tradition, has enriched the cultural life of the local people and given visitors a lasting experience. The event has helped to make people feel more at home, have fun and spend time together. The activities with the participation of the residents not only provided a meaningful way to relax, but also brought people of different ages, social groups and communities closer together.
II Jutasi Picnic and Olympics - Community development in the housing estate
Azonosítószám: OC-MUV/3-2021/868454
Duration of the action: 01.02.2022 - 30.11.2022.
Amount of aid: HUF 40.000.000
The project included presentations of the "Knowledge Resource Open University", a Fence drawing competition, an asphalt drawing competition, community games, Jutasi photo and sound collection, yoga, Nordic walking, mini picnic events and the three-day Jutasi Picnic.
The Jutasi Picnic and Olympics took place every day with a different theme and at a different venue. In the park in front of Deák School, circus activities, face painting and balloon-flying delighted the audience. In the János Kálvin Park, there were sports and movement activities, skill demonstrations and concerts. The stage performers - FankaDeli, Csaba Vastag, Tamás Vastag and their bands - were a great success. On the third day there were family and children's activities, puppet theatre performances and gastronomic events.
Throughout the project, community-building activities were carried out in which shared experiences and common goals were created through the involvement and participation of the residents. We organised truly modern, experiential programmes. We succeeded in reaching all age groups, especially young people. We were delighted with the number of people who took part in the events, and the activity of schoolchildren and kindergarteners exceeded our expectations.
Thanks to the programmes we offer, the cultural, artistic and community life of the residents has become more colourful and meaningful. The project has helped to make the residents feel more at home in the estate.
III Jutasi Picnic and Olympics - Community development in the housing estate
Azonosítószám: OC-MUV/4-2022/413439
Duration of the action: 01.09.2022 - 30.11.2023.
Amount of aid: HUF 50.000.000
The project will continue in 2023 with open-air lectures, community games with lasting creations, fence and asphalt drawing competitions, space-use programmes and mini picnic events. Residents are also invited to participate in photo and sound collections and Olympics. The latter will be part of the Jutasi Picnic, which, like the 2022 event, will be a three-day event with a different theme each day in a different sub-centre.
In the park in front of the Deák School, circus activities will take place as usual. The Hungarian Jugglers Association offers acrobatics, acro-gyoga, juggling, equipment rental and special performances. In the Táborállás Park there will again be family and children's activities and gastronomic events. In the John Calvin Park, there will again be sports and movement programmes, demonstrations and concerts. Visitors will be able to take part in tournaments and sports competitions, play foosball, ping pong, climbing wall, teqball, chess and many other sports activities.
Through community development programmes, we design artistic, creative and community-building tools to contribute, step by step, to the creation of smaller and then larger communities. One of the pillars of the events is knowledge sharing (e.g. local history, art history and healthy lifestyle lectures at the Knowledge Resource Free University), another is the artistic line (e.g. drawing competitions, photo and sound collection, concerts, experiential music, collective creative processes), and the third is healthy lifestyle education (e.g. yoga, Nordic Walking, movement elements, competitions).
In 2023, our work will be complete. In Veszprém, this year is all about the EFC. In line with this, Agóra is also moving forward, with even more varied programmes, new themes and new speakers. We are strengthening the Jutasi brand with ever stronger community involvement and a diverse range of events.
Visitor-friendly development of the Agora
Azonosítószám: OC-AUD/1-2022/987137
Duration of the action: 01.05.2022 - 28.02.2023.
Amount of aid: HUF 4.100.000
Our institution has made improvements in the areas of overcoming obstacles (for families, cyclists and dog owners), Let Veszprém be the city of queens, online, visitor management, Let's be green and accessibility.
We used the grant to expand our toolkit. To overcome the obstacles, we created a children's corner and purchased a number of child-friendly items: baby food warmers, silencing ears, high chairs, baby mats, nappy changing mats with refill, toilet reducers, step stools, booster seats, colourful wooden furniture, educational and educational books, logic, skill and creative toys, colourful cushions, cups, plates, drawing materials. We also bought a dog drinking bowl.
In connection with the theme "Let Veszprém be the city of queens", we purchased screens and a projection screen. We also brought our 3.5 m tall Gizella and István giant puppets to all our outdoor events, giving visitors the opportunity to take photos with them. We launched an art competition called "Faces of a WOMAN". An exhibition of the works selected by an expert jury was organised.
In the online area, the content and layout of our institutional website have been updated, its menu structure standardised, translated into English and fully accessible. In addition, a children's programmes menu has been created, a calendar of events with filters has been developed, all visitor-friendly services and green actions have been listed and a link to the Veszprém attractions has been made available on the website.
As part of the visitor management improvements, we purchased a visual tool to provide more effective information and mobile signposts to guide visitors.
For the Let's Go Green theme, we purchased separate waste bins, environmental books, used battery collectors, LED light bulbs and a green wall.
In the context of accessibility, we bought contact tablets with QR code scanning for sign language interpretation.
Advent in Veszprém 2022
Azonosítószám: ET-PRG-2022/683771
Duration of the action: 10.11.2022 - 28.02.23.2022.
Amount of aid: HUF 20.000.000
Advent 2022 in Veszprém will take place between 25 November and 23 December. During this time, an Advent market with 16 wooden houses was waiting for the public to get in the mood for the festive season. Veszprém craftsmen and entrepreneurs offered their products at the fair. In addition to the vendors, two of the chalets were used by civic groups, including the Association for Disadvantaged Youth, animal welfare organisations and school foundations. In addition to the market, the Advent weekend was a Christmas weekend with light painting, crafts, juggling, a puppet hut, a playground, a petting zoo and a variety of stage events, also featuring local performers. Our aim was for the people of Veszprém to celebrate together and for the members of the communities to share the intimate moments of the festive season. Our goal was fully achieved, as many NGOs, national minority self-governments, kindergartens, primary and secondary schools and almost all the city's institutions were represented at the event.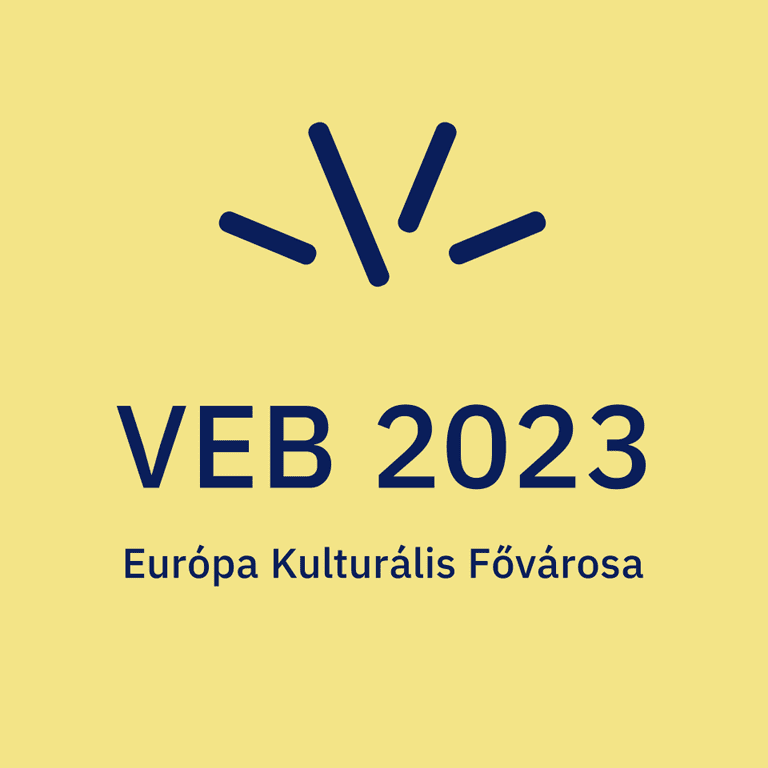 Agóra Veszprém Cultural Center

"Experience, community, knowledge" family programmes with Agora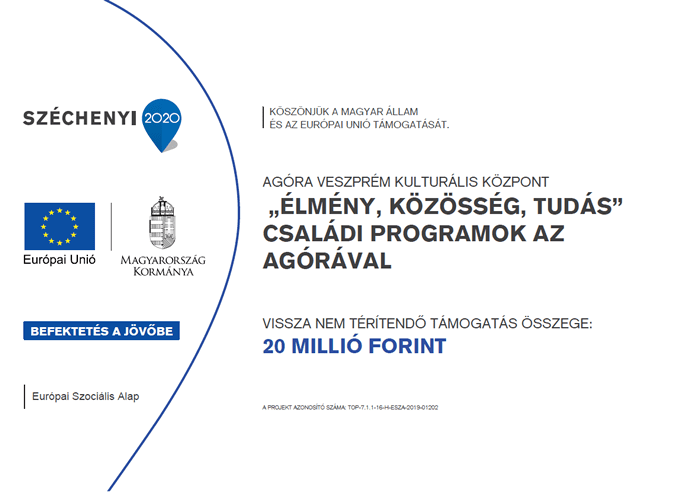 Name of beneficiary: AGÓRA VESZPRÉM CULTURAL CENTRE
Project title: 'Experience, Community, Knowledge' family programmes with Agora
Contracted amount of aid: HUF 20 000 000
Rate of aid: 100%
Project completion date: 30.12.2021.
Project ID number: TOP-7.1.1-16-H-ESZA-2019-01202
Presentation of the project content:
Self-defence training - The training, whose basic objective is to protect, support and increase the sense of security of families, is a new programme in the community life of the city. It helps to solve life management problems in groups and in the community, and to prevent dangers to family members. It is practice-oriented, with a focus on interactive learning. Parents and children working together, peer learning provides an excellent opportunity to develop competences and to engage new communities. It also contributes to health-conscious lifestyles, raising awareness among participants.
Prevention family day - The event contributes to the transformation of local society, raising awareness and shaping attitudes. It is a good opportunity to renew community life and to transform visitors into a cooperative community. It is an interactive programme that develops skills and abilities, teaches good self-esteem and builds self-esteem. It supports family education and helps to fill any educational gaps.
Agora family day - Children and adults playing together supports the positive development of family life and the formation of families as a community. The programme is informal, accessible, cultural and community-based, promoting local identity and building community.
"Family Friendly Parent Club" - the main aim of the lecture series is to sensitise and educate parents and professionals working with children, to broaden their knowledge, to shape their attitudes and to promote social responsibility.
Intensive language exam preparation courses at Agora - our aim is to bring participating students closer to a successful language exam, thereby reducing the financial burden on parents.
The Move in the Park! - programme gives children and adults a chance to play and compete together, and the shared experience helps strengthen family bonds and promote healthy lifestyles.
Small confectionery day care - aims to provide children with meaningful opportunities to have fun and learn outside the educational institution.
"Family first" - In addition to entertainment, the aim is to strengthen the child-parent relationship, to get to know other children and families, and thus to build community. Play houses and dance workshops also develop creativity and introduce children to traditions and folk culture.
"From father to son - A traditional family afternoon" - the aim of the series of programmes is to revive and pass on the folk traditions of the holidays to children of today and to strengthen the parent/grandparent-child relationship through joint play activities.
Health promotion in the family - the aim of the lecture series is to promote health, disease prevention, happy family life and harmonious balance, covering a wide range of topics, taking into account the age specificities of family members and helping them to deal with the different health problems of the generations.
"TOP-6.9.2-16-VP1-2018-00001

Local identity - Community development

in the urban areas of Veszprém" tender