Agóra Veszprém Cultural Center

"Experience, community, knowledge" family programmes with Agora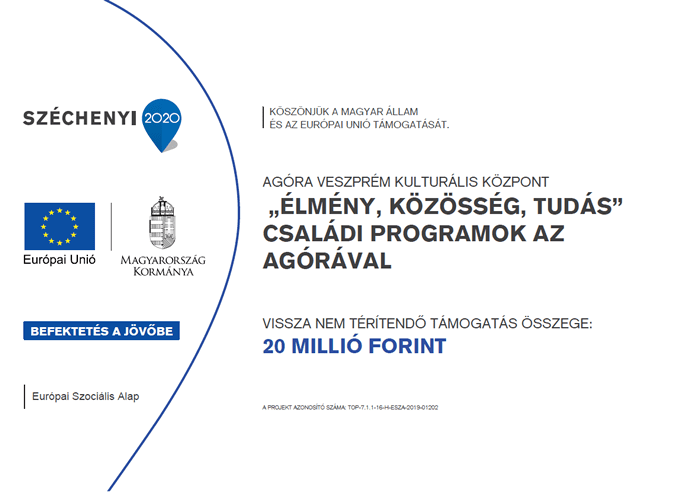 Name of beneficiary: AGÓRA VESZPRÉM CULTURAL CENTRE
Project title: 'Experience, Community, Knowledge' family programmes with Agora
Contracted amount of aid: HUF 20 000 000
Rate of aid: 100%
Project completion date: 30.12.2021.
Project ID number: TOP-7.1.1-16-H-ESZA-2019-01202
Presentation of the project content:
Self-defence training - The training, whose basic objective is to protect, support and increase the sense of security of families, is a new programme in the community life of the city. It helps to solve life management problems in groups and in the community, and to prevent dangers to family members. It is practice-oriented, with a focus on interactive learning. Parents and children working together, peer learning provides an excellent opportunity to develop competences and to engage new communities. It also contributes to health-conscious lifestyles, raising awareness among participants.
Prevention family day - The event contributes to the transformation of local society, raising awareness and shaping attitudes. It is a good opportunity to renew community life and to transform visitors into a cooperative community. It is an interactive programme that develops skills and abilities, teaches good self-esteem and builds self-esteem. It supports family education and helps to fill any educational gaps.
Agora family day - Children and adults playing together supports the positive development of family life and the formation of families as a community. The programme is informal, accessible, cultural and community-based, promoting local identity and building community.
"Family Friendly Parent Club" - the main aim of the lecture series is to sensitise and educate parents and professionals working with children, to broaden their knowledge, to shape their attitudes and to promote social responsibility.
Intensive language exam preparation courses at Agora - our aim is to bring participating students closer to a successful language exam, thereby reducing the financial burden on parents.
The Move in the Park! - programme gives children and adults a chance to play and compete together, and the shared experience helps strengthen family bonds and promote healthy lifestyles.
Small confectionery day care - aims to provide children with meaningful opportunities to have fun and learn outside the educational institution.
"Family first" - In addition to entertainment, the aim is to strengthen the child-parent relationship, to get to know other children and families, and thus to build community. Play houses and dance workshops also develop creativity and introduce children to traditions and folk culture.
"From father to son - A traditional family afternoon" - the aim of the series of programmes is to revive and pass on the folk traditions of the holidays to children of today and to strengthen the parent/grandparent-child relationship through joint play activities.
Health promotion in the family - the aim of the lecture series is to promote health, disease prevention, happy family life and harmonious balance, covering a wide range of topics, taking into account the age specificities of family members and helping them to deal with the different health problems of the generations.
"TOP-6.9.2-16-VP1-2018-00001

Local identity - Community development

in the urban areas of Veszprém" tender